PINOYSEO ADS: UPCOMING EVENT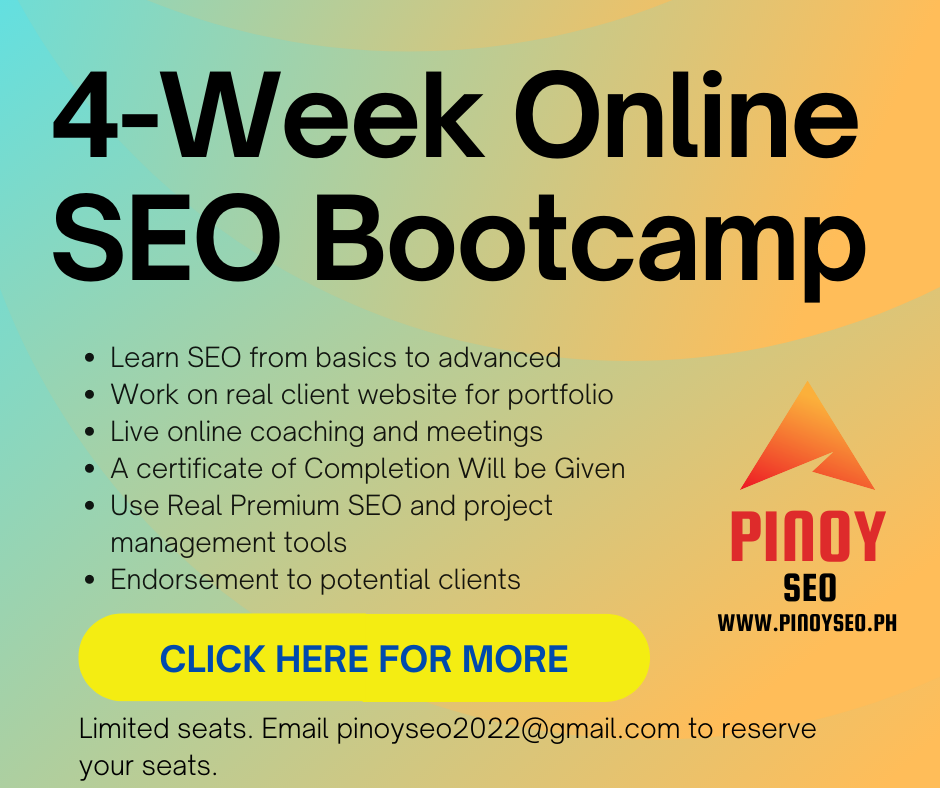 Website HCM Nexus
About the job SEO Assistant
Media company is a rapidly growing digital marketing agency that is looking to add a strong team member to our Customer Service department. The ideal candidate has great communication skills and is interested in working in a dynamic, fast-paced environment. You will be expected to manage client accounts and represent the needs of both the client and the agency. This is a great opportunity for applicants who are motivated, flexible, and demonstrate leadership skills. Although the communication is KEY, you must have very strong understanding of search engine optimization, Google my business, dealing with suspensions and reinstating listings.
Responsibilities:
Providing customer service to a wide range of clients
Overseeing and following up on campaign deliverables
Communicating and checking in with clients regarding their campaigns
Creating and/or tailoring client campaign strategies based on their needs
Communicating client needs and requests to the team
Walking clients through their analytics via screen share programs like Loom
Communicating with the team, assigning tasks, and holding them accountable to deadlines
Providing final approval for projects going out to clients, including proofreading and aesthetics checks
Taking notes on client requests during calls, and assigning them as tasks to the team
Taking notes during team meetings, and holding accountability meetings with key team members
Management of client ticketing system
Learning basic information about each clients niche, to understand the goals and challenges of their business
Preferred Qualities:
TOP 4:
Resolve 90% of client requests within 48 hours
Report to 70% of the clients receive reports at least once a month
Turn negative clients into positive clients in an average of under 7 days
Complete Onboarding New Clients under 1 week of client joining company
Other:
Comfortable with a sales environment, and willing to save departing clients by highlighting the benefits of our work
Willing to take unexpected client calls during work hours
Comfortable being on camera, as much of our client reporting occurs through screen share programs such as Loom
Experience creating/optimizing systems and operations processes, as we are always looking for ways to improve our business structure
Detail-oriented, with an eye for correct grammar and online visuals
Gains satisfaction from following through with tasks and seeing projects to completion
Ability to lead and mentor a team
Experience writing pitches and proposals for clients
Requirements:
2 years of experience in Customer Service, SEO Account Management, or Project Management
High level of experience in Google Analytics
Strong English communication skills, both written and verbal
Digitally proficient, including excellent knowledge of Outlook, Excel and Microsoft Word.