PINOYSEO ADS: UPCOMING EVENT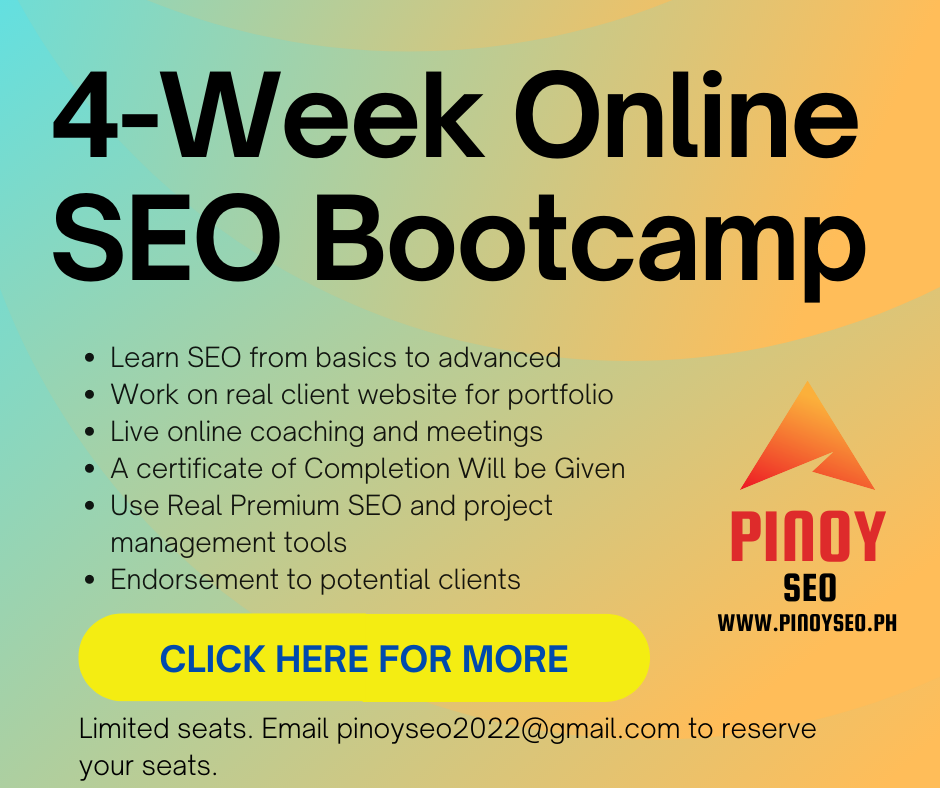 We are thrilled to announce the upcoming launch of our highly anticipated 4-week online SEO Bootcamp in Tagalog/English!
After receiving numerous requests from our community, we have listened and are excited to cater to the growing demand for SEO training in Tagalog. This boot camp aims to empower individuals with the knowledge and skills to excel in the dynamic world of search engine optimization.
The demand for PinoySEO training in Tagalog has been on the rise, and we understand the importance of providing accessible learning opportunities to a wider audience. With this bootcamp, we aim to bridge the language barrier and create an inclusive learning environment for aspiring SEO specialists.
Learn SEO from Basics to Advanced:
Our 4-week online SEO Bootcamp in Tagalog/English will cover all the essential aspects of search engine optimization, equipping participants with the tools and strategies needed to succeed in the digital landscape. From keyword research and on-page optimization to off-page techniques and analytics, our comprehensive curriculum will empower learners to enhance their website's visibility and drive organic traffic.
Real Client Website Experience:
Get hands-on experience by working on real client websites during the bootcamp. This practical approach will allow you to build your portfolio and showcase your skills to potential clients or employers.
Interactive Learning Environment:
We believe in the power of interactive and engaging learning experiences. Throughout the bootcamp, participants will have the opportunity to engage in live discussions, hands-on exercises, and practical task assignments, allowing them to apply their newfound knowledge and skills in real-world scenarios.
Certificate of Completion:
Upon successfully completing the boot camp, you will receive a certificate of completion, validating your expertise in SEO. This certificate can boost your credibility and open doors to exciting opportunities in the industry.
Use of Real Premium SEO Tools:
Gain access to industry-leading SEO tools and learn how to leverage their power to optimize your strategies effectively. Master the tools used by professionals and stay ahead of the competition.
Endorsement/Application Assistance to Potential Clients:
For participants who actively engage and demonstrate their skills during the training, we may provide endorsement and application assistance to potential clients. Unlock new opportunities and establish valuable connections within the SEO community.
Your Own Free Subdomain WordPress Website:
As part of the bootcamp, you'll receive your own free subdomain WordPress website. Use it for practicum exercises, build your portfolio, and showcase your SEO expertise. You'll have lifetime access to continue refining your website even after the bootcamp ends.
Mark your calendars! The highly anticipated 4-Week Online SEO Bootcamp in Tagalog/English will kick off on July 25.
Get ready to dive into the world of SEO and gain the skills needed to excel in the world of digital marketing.
Don't miss out on this exciting opportunity!