PINOYSEO ADS: UPCOMING EVENT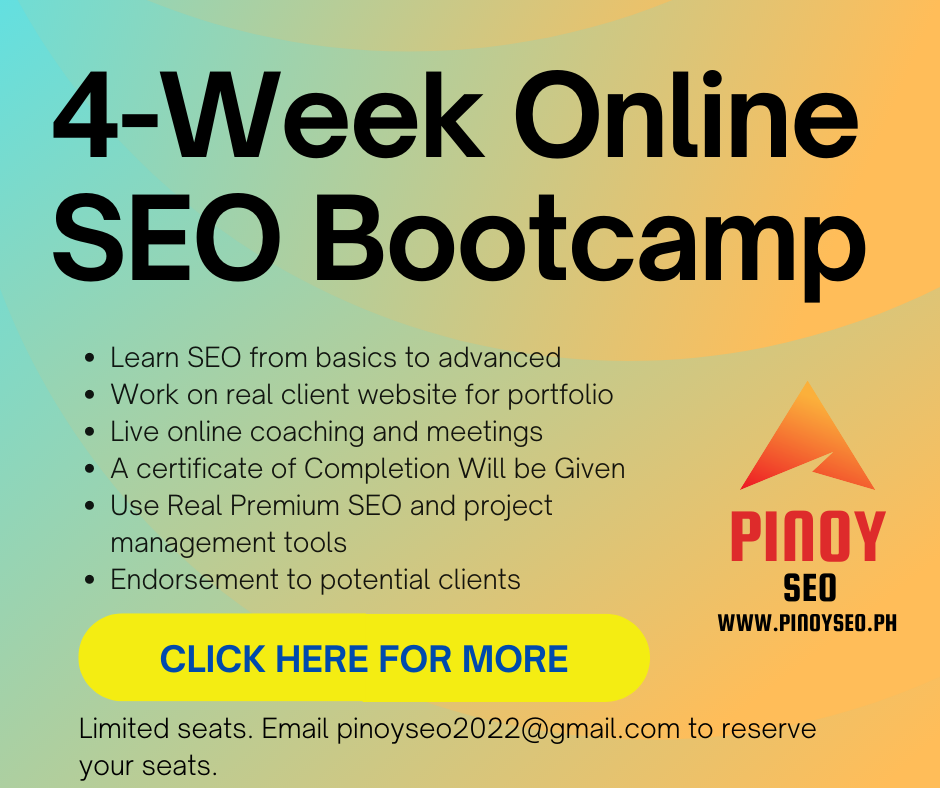 Website Thinklogic Marketing Corporation
Are you an SEO expert looking for a career opportunity to help businesses gain visibility on the web? We have the perfect role for you! Thinklogic Media Group is hiring an experienced Search Engine Optimization Specialist to join our team.
It's time to put your skills to work and make a lasting impact on our company. With the right strategies, you can help us reach new heights.
Duties and Responsibilities
•Conducted searches such as evaluating competitor websites to incorporate best practice and create a marketing strategy to ensure optimal results.
•Improved organic search results by increasing the search engine results page.
•Developed title tag, description of meta tags and highlighted and added relevant links to the site.
•Developed on-site body content, meta description, and page titles in Support of SEO strategies.
•Stayed- up-to-date evolving SEO trends, practices, and guidelines.
•Monitor daily, weekly, and monthly tracking reports for traffic and keyword performance.
•Optimize keyword use and effectiveness.
•Utilize a keyword research tool to track progress and performance.
•Prepare comprehensive strategy updates, reports, and forecasts.
•Devote the whole of his/her working time and attention to the duties assigned to him/her;
•Faithfully and diligently serve the company;
•Use his/her best endeavors to promote and protect the interests of the Company;
•Obey all reasonable and lawful directions given to him/her by the assigned his/her immediate supervisor
•Carry out his/her duties and exercise his/her powers jointly with such person as the Company may appoint to act jointly with him/her;
•Make such reports to the assigned immediate supervisor on any matters concerning the affairs of the Company as are reasonably required.
•The Company reserves the right to require the Employee to carry out the duties of another position of equivalent status either in addition to or instead of his/her duties as (SEO Specialist) Work Schedule: Monday to Friday 8:30am to 5:30pm Fixed Day off: Saturday and Sunday Office Address: 3rd Floor, Stonestown Business Center, Mastersons Avenue, Upper Balulang, Cagayan de Oro City
Interested applicants may send their resume, portfolio and cover letter to careers@thinklogicmediagroup.com
APPLY NOW!
Summary of role requirements:
• Looking for candidates available to work on weekdays
• 1 year of relevant work experience required for this role
• Working rights required for this role