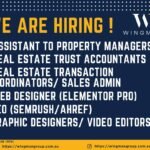 URGENT HIRING! URGENT HIRING!
START IMMEDIATELY!
We are looking for a skilled and experienced individual to join our team
PERMANENT WORK FROM HOME (Equipment is self provided)
FULL TIME from 7AM to 4PM (Manila Time), Monday to Friday
Australia based company
To apply, please submit your resume and portfolio (for SEO and Graphics Designers) Now!
We look forward to hearing from you and appreciate your interest in joining our team!
SALARY RANGE : 14k – 45k
SHORLISTED CANDIDATES WILL BE CONTACTED VIA MOBILE NUMBER SO PLEASE MAKE SURE TO INDICATE YOUR ACTIVE MOBILE NUMBER