PINOYSEO ADS: UPCOMING EVENT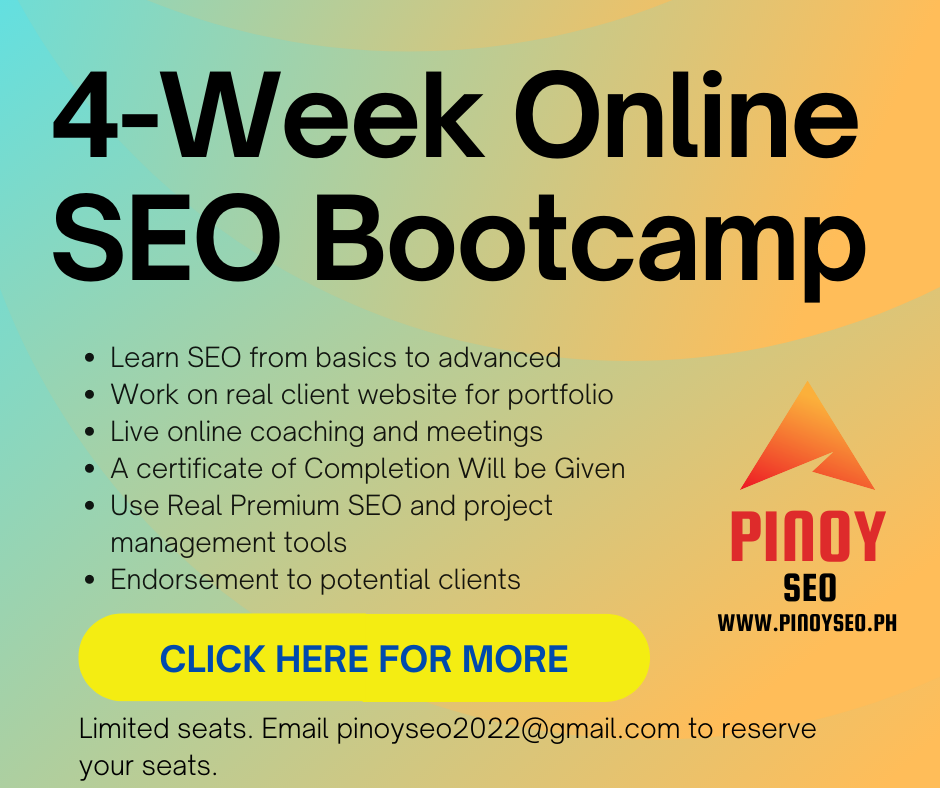 Website Azeus Systems Limited
About the job
Azeus Systems Limited is looking for SEO Specialists for its multi-awarded and leading software solution, Azeus Convene.Azeus Convene is a meeting and collaboration solution for Boards and Senior Leadership Teams of large enterprises and government agencies. In a short period of five years, Azeus Convene has expanded its client base exponentially with a global footprint in over 100 countries.
We hope to grow our team with someone who has
A passion for digging into websites and searching problems of unknown origin to identify root causes and specify the techniques, tools, or teams required to solve them.
The ability to blend, synthesize and interpret data from multiple sources such as crawls, log files, search consoles, analytics, and internal databases to make recommendations for optimization and technical adjustments.
A solid foundation of SEO principles from semantics and search intent to SERP features and link equity.
A deep understanding of technical SEO factors for large sites: architecture, canonicalization and redirects, internal linking, markup and schema, dynamic/asynchronous content, UI/UX, and performance.
Confident and can communicate well with a combination of humility and eagerness to collaborate with teammates. We want a specialist that we can learn from.
As an SEO Specialist you will
Improve clients rank in major search engines
Master architecture, taxonomy, and technical constraints of our B2B websites.
Track and analyze technical factors affecting search visibility and index coverage, providing insight and recommendations for improvement.
Discover, document, and report on potential systemic technical problems in indexability, canonicalization, redirects, HTTP errors, etc.
Track and report on search robot activity through log file analysis.
Identify website performance and crawlability issues and opportunities, through the analysis of sitemaps, crawl goals, page rendering, and timing.
Work with our product owner and development teams to execute changes that help search engines crawl and index our site more effectively.
Check on On-Page (copywriting, internal linking, etc.) and Off-Page (link-building, guest posting, etc.) SEO.
Develop new methods, reports, and tools to help the SEO team work more effectively and efficiently.
Investigate and analyze the SEO strategies of our competitors, particularly under-the-hood exposing gaps that may pose threats or opportunities.
Your Profile
Bachelors degree in IT, Engineering, Marketing , or equivalent.
An owner with 3+ years of experience in hands on display and video advertising, media buying, and brand lift studies, ideally at a B2B Tech company (or client).
Previous experience with B2B SaaS websites.
Previous professional experience driving B2B/B2C acquisition with campaigns across Paid Social
You are an excellent communicator and creative thinker, with an ability to use data to inform all decisions
Proficiency in marketing automation to generate traffic, convert visitors into leads, and then nurture them (using dynamic workflows) into converted customers.
Experience building a comprehensive Digital Marketing strategy from the ground up, applying strategies of non-traditional creative solutions, funnel optimization, and growth
Proven success managing Online Marketing and CPC, CPA, and CPM cost models on Paid Social.
Strong analytical skills for robust data-driven decision making with experience in distilling volumes of data into simple KPIs and tracking, telling stories using data.
Good writing and verbal communication skills (including presentation skills).
Strong sense of ownership and determination to get things done, with humility and eagerness to learn and grow with a hands-on mindset.
Passion for changes and adapt yourself easily to new scenarios.
Practical experience creating and using tags with Google Tag Manager.
Proficiency with Google Analytics, Excel, Supermetrics or Superset, Native ads (Taboola, Bing, etc), Facebook Business Manager, LinkedIn Business Manager, Google Ads (all products), DataStudio, Growth Ops (paid media routine) Demand Side Platform (DSP), and Data Management Platform (DMP).
Additional Requirements
Expertise in Google Search Console and Google Analytics.
Proficiency with Microsoft Clarity or Chrome Developer Tools for on-page and performance analysis.
Thorough understanding of the SEO implications of enterprise website technologies.
Experience in crawling, parsing, extracting data, and analyzing large numbers of website pages using tools like Screaming Frog.
Ability to confront the challenges of high-volume automated traffic from bots and scrapers.
Working knowledge of HTML, JavaScript, and CSS.
Working knowledge of recognized SEO toolsets, e.g. SEMRush, Ahrefs, Moz, SearchMetrics, etc.
What's In It For You
Competitive pay and comprehensive benefits package
Opportunity to grow skills as you work alongside experienced digital marketers and a global team.
Work from home benefits include the essential computer equipment, such as hardware and software, needed to perform your job. If lacking, Azeus Convene can provide it for you.The candidate must be willing to demonstrate proficiency and critical thinking skills through a mini-project before or during the interview process.
This is for a temporary work from home set-up until an indefinite schedule. Work tools will be provided,