PINOYSEO ADS: UPCOMING EVENT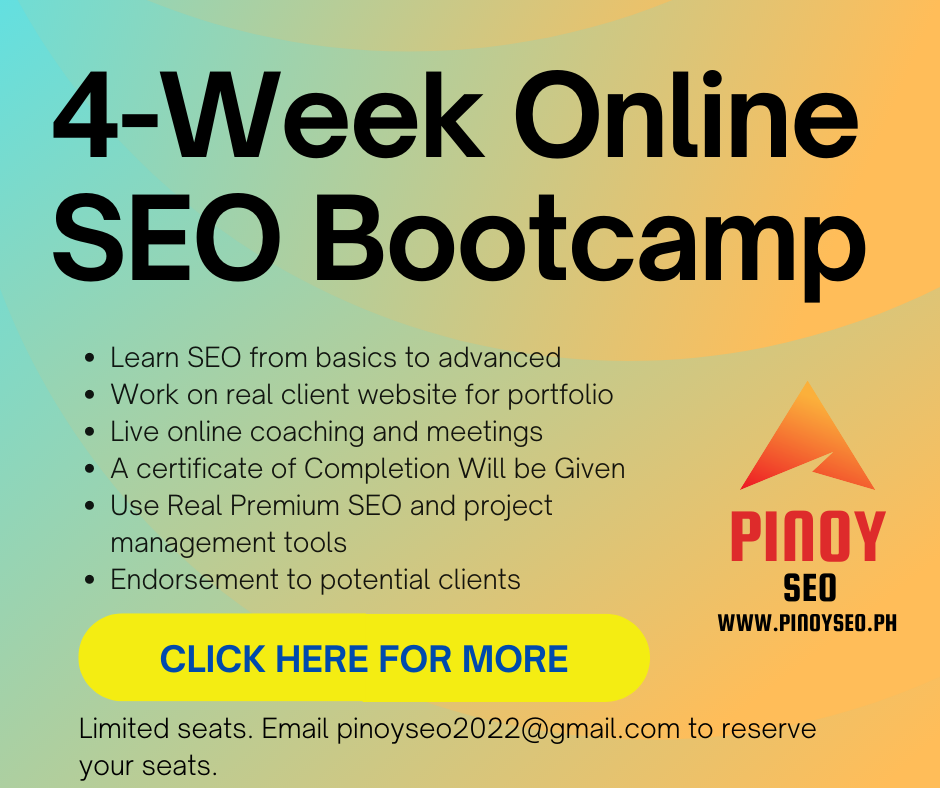 Website SafetyCulture
About the job
SafetyCulture is an Australian-based, international tech scale-up. We create SaaS solutions that empower front-line workers to drive operational excellence and take ownership of their safety and well-being.
The SC app was launched in 2012 to solve a global problem. Reduce workplace injuries and help frontline workers get home safely to their families. Fast forward 7 years, and we have hundreds of thousands of workers in over 150 countries using our platform, conducting millions of inspections every month. We're excited to have a largely untapped global market and ambitious goals to reach 100 million workers. We're looking for talented and mission-driven people to drive that growth.
Reporting to the SEO Manager, there is an opportunity for an SEO Team Manager to lead our high-performing SEO team to take on this growth to the next level.You will be responsible for effectively managing and supporting a team of cross-functional specialists across our key SEO platforms to help execute our SEO strategies. This includes creating actionable plans, and individual OKRs and providing insights on performance and opportunities for improvement across the team.
In addition, you will play a key role in driving our content SEO/keyword strategy and producing insights for continuous improvement for our writers. There will also be opportunities to co-ordinate new SEO projects.
Qualifications
4+ years of in-house experience in managing a team with a record of growing SEO
Excellent written and verbal English communication
Deep understanding of SEO (content, optimization, outreach) and is comfortable working in cross-functional teams in a fast-growing environment
Strong hands-on experience in content SEO strategy management
Able to conduct strategic planning with key leaders and stakeholders
Strong project management execution skills – experience working with or leading teams on complex projects with deadlines
A confident leader and communicator with the team and key stakeholders
Solid understanding of performance marketing, conversion, and online customer acquisition
Hands-on experience with website analytics tools (e.g, Amplitude, Google Search Console, AHREFS)
Hands-on experience with WordPress Editor
Knowledge of ranking factors and search engine algorithms
Up-to-date with the latest trends and best practices in SEOAble to present and communicate ideas and insights to a wider and international group
What will I be doing?
Lead and guide a team of cross-functional SEO specialists to drive our SEO strategy to success
Mentoring, training, and supporting team members to deliver on team goals
Assigns tasks to the team and monitors pacing every week
Plan and create a successful content SEO strategy to uncover new keyword opportunities
Contribute and assist our cross-functional SEO team
Coordinate multiple SEO projects
Communicate with business stakeholders on execution, performance, and strategy
Manage regular team training to encourage efficient SEO practices
Identifying new opportunities and continue process improvement
Staying on top of SEO best practices, guidelines, objectives, and documented regulations
Excellent Skills
Leadership
Data analysis
Strategic planning
Team building
Work Setup Hybrid
Location We are located on the 27th Floor SM Aura Office Tower, 26th Street corner McKinley Parkway, Bonifacio Global City, Taguig City . Situated in the heart of the premier business district of Manila, a variety of malls, restaurants, cafes, and fast food joints are easily accessible and within walking distance from our office .
Check out our Facebook and Instagram pages to get a glimpse of the SafetyCulture life!
The Company  SafetyCulture is a customer and product-driven company with an ambitious mission: empower front line workers to drive operational excellence and take ownership of their safety and wellbeing. The company started in Townsville, our HQ is in Sydney, and we have offices in Kansas City, Manchester, Amsterdam and Manila
Our first product, the SC app, is a mobile platform that helps teams around the world carry out inspections and spot issues quickly and easily. The knock-on effects are huge: by surfacing exactly what matters, people in teams can act to improve their business, raising their game, again and again. From boutique hotels to space exploration companies, millions are discovering the positive impact this app can have on their teams and performance every day. Today there are more than 25,000 companies that pay for our products, carrying out millions of inspections per month.
This is an exciting time in SafetyCulture's history. We now have roughly 400 mission-obsessed people driving outcomes for our customers. We have a strong senior leadership team with experience taking start-ups through the critical scale-up phase. We've raised more than $150 million in funding, which will be used to evolve the product into an alerts platform for distributed teams, and expansion into insurance, sensors and IoT, and telematics for fleets. The goal is to have 100 million people using our products every day.
At SafetyCulture, we respect and appreciate what makes each of our team members different in terms of gender, age, ethnicity, religion, disability or sexual orientation. We unite to support one another as allies and we take deliberate steps to ensure that our people feel like they belong and can thrive at work each day.
You can find out more about life at SafetyCulture via Youtube , Twitter , Instagram and LinkedIn .