PINOYSEO ADS: UPCOMING EVENT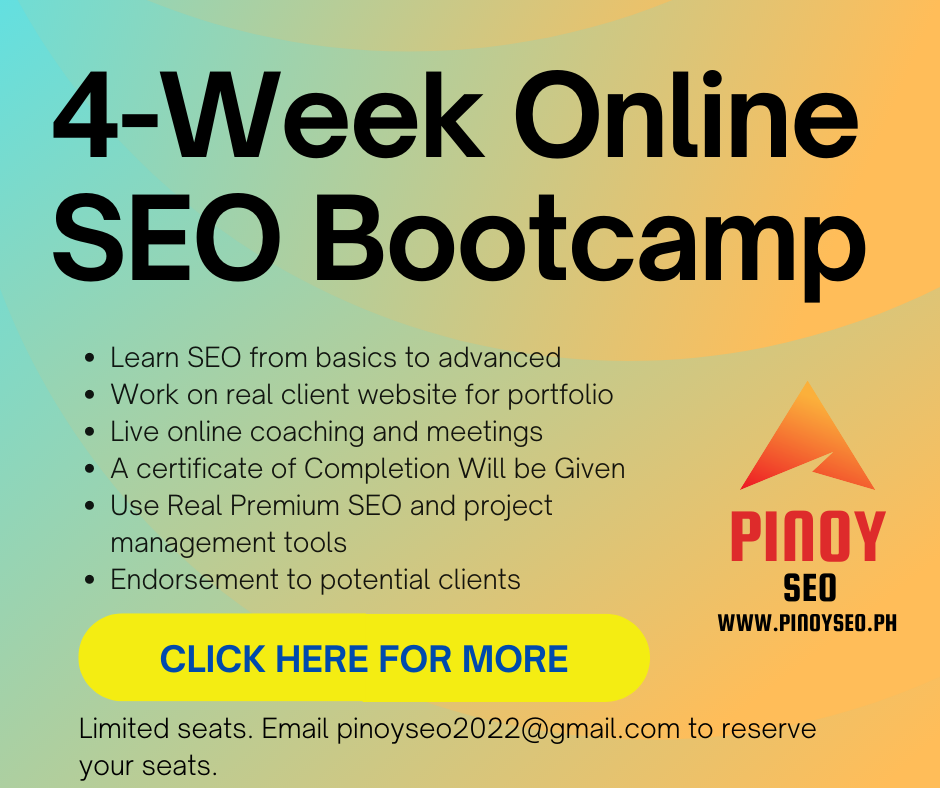 Website Jun Cyber
Job Brief:
Jun Cyber is looking for a Jr SEO/Web Developer that will help us grow.
Responsibilities:
We want you to help us do these things:
Detailed understanding of search engine algorithms to determine what governs the behavior of the crawlers, and influences them to rank pages.
Sitemap knowledge.
Optimizing page load speed.
Manage keyword rank tracking and reporting.
Finding and fixing content duplicate issues.
Link building and outreach efforts.
Fixing Indexing errors.
Optimization of landing pages and blogs across different devices – desktops, and mobile phones.
Build and optimize a mobile-friendly website.
Identify, monitor and implement on and off-page changes to improve the website performance.
Troubleshooting website performance issues – crawling and indexing errors.
Responsible for registering, fixing and maintaining weekly logs for SEO related bugs/errors.
Collaborating with other SEO professionals, web developers, digital marketers, and many other specialists to eliminate recurring technical glitches.
Administrating web tools – Google Analytics, CMS and many other industry-leading tools.
Updating website following the client's KPIs and industry-recommended practices ( algorithm updates).
Skills Required:
Well-versed with HTML, CSS, JS and site architecture.
Ability to make calculated changes in the website content.
Theoretical understanding of on and off-page SEO strategies, including backlink profile.
Hands-on experience in opening and managing client accounts on Google Analytics and Google Search Console, and tools like Moz, Ahrefs, SEMRush, and other relevant SEO tools.
Functional knowledge of Chrome DevTools, structured data markup, and AMP.
Proficiency in managing robots.txt files, canonical tags, pagination, and redirects.
Conceptual Knowledge of Conversion Rate Optimization and UX principles and Upgrade to see actual infooad understanding of social media platforms and their influence on SEO practices.
Anticipates common website problems, and provides detailed analysis along with performance recommendations.
Must possess excellent verbal and written communication.
Good interpersonal skills to coordinate with internal teams and manage projects with senior managers/leadership.