PINOYSEO ADS: UPCOMING EVENT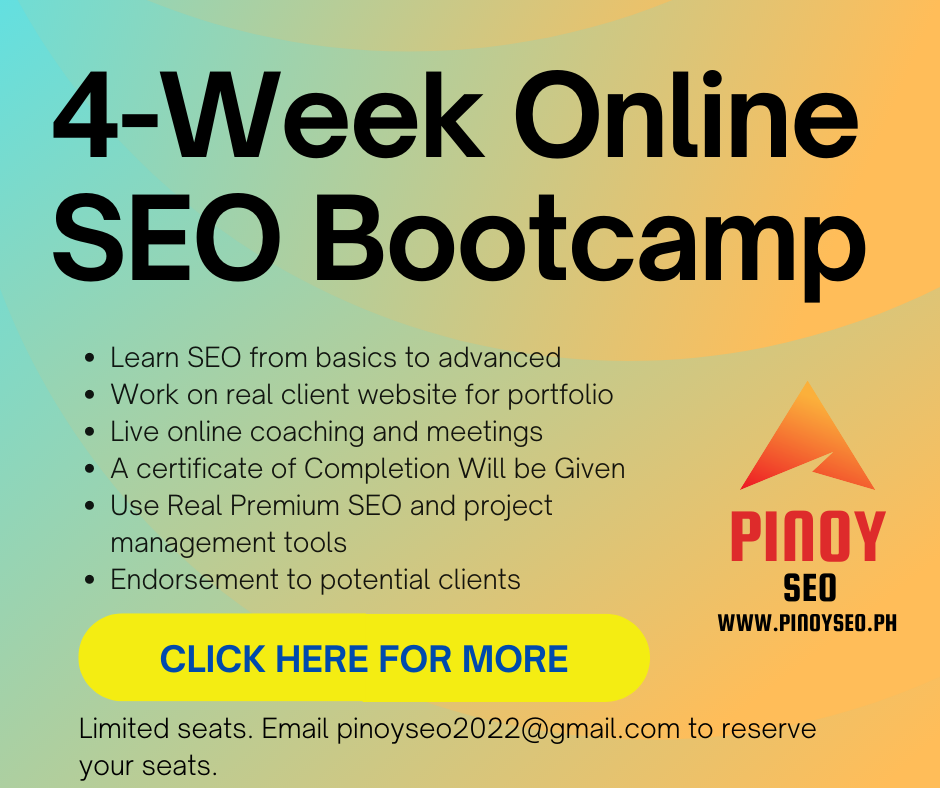 The Philippines is becoming an emerged market for businesses globally in the last decade. The country has been on the rise of economic growth and is becoming a hub for different businesses to set up their operations. With the growth of globalized trade and commerce, the online sphere has become a significant aspect of businesses worldwide. The need for SEO or Search Engine Optimization for businesses to rank higher in Google search has become a crucial aspect of online marketing for businesses. The demand for SEO jobs is creating employment opportunities for Filipinos who are tech-savvy and are a good fit for the digital age.
The SEO industry is a diverse field where anyone with an inclination towards technical aspects and digital marketing can start a career. A lot of businesses in the Philippines have not yet set up their online presence, and those who operate online are not entirely aware of digital marketing. Therefore, SEO services have become paramount for businesses to reach out to their target customers. SEO involves optimizing websites to rank higher on Google search engine results pages (SERP) using relevant keywords and relevant onsite and offsite content. As more businesses are seeking to grow their online reputations, SEO jobs are in demand.
SEO jobs in the Philippines exist in various forms and can be found in many different online job portals. This article will cover some top sources to find SEO jobs in the Philippines.
Online Job Boards
Several Online job boards are popular for finding SEO jobs in the Philippines. Job portals like Upwork, Onlinejobs, Jobstreet, and Workabroad are trusted sources where businesses post job vacancies for SEO experts. Freelancing sites like Upwork and Onlinejobs may require verification to access the platforms' features. Jobstreet.com and Workabroads.com have a separate category for digital marketing jobs or SEO jobs, making it easy for job seekers to filter search results. These online job portals are a great place to start building a portfolio while working with different clients.
Social Media Platforms
Social media networking platforms like LinkedIn and Facebook offer job seekers SEO job opportunities. With the vast number of digital professionals on LinkedIn, many recruiters and companies look on the social networking site to post job vacancies for SEO experts. To find these job openings, job seekers can use LinkedIn's job feature, which allows searches based on location, job title, and industry.
Facebook has dozens of job groups where recruiters and companies post job openings for various positions, including SEO. This social media networking site makes it easy for job seekers to search for open positions in the Philippines, and many recruiters rely on Facebook to find qualified candidates. Some of the popular SEO job groups on Facebook include SEOPH, Digital Marketing Jobs Philippines, and Digital Marketing Freelancers Philippines.
Industry-Specific Job Boards
Career websites that cater to the digital marketing industry specialize in finding SEO jobs in the Philippines. Boards like Adobo and Philippine Digital Insights are focused solely on digital marketing jobs. These job boards are ideal for SEO job seekers, as the job postings are likely to be from companies who know the importance of SEO in their online marketing efforts. By using these job boards, job seekers can discover openings in both small and large companies with different skill levels and employment types.
Freelance Websites
Freelancing websites can offer SEO job opportunities in the Philippines. These platforms connect freelancers with global clients who are seeking different SEO services. Websites like Fiverr, PeoplePerHour, and Guru.com allow freelancers to create a profile and include a portfolio, which they can use to showcase their work. Freelancers can set their prices according to the services they provide, and since they work as independent contractors, they have the flexibility to choose clients and work schedules.
Referrals and Network Connections
Word of mouth remains an effective way of obtaining SEO jobs. Personal connections and referrals can be helpful in finding opportunities to work in SEO. Whenever a friend or colleague finds an SEO job opportunity in the Philippines, it is advisable to express interest in being referred to the company. This approach can lead to people recommending suitable candidates for companies that are looking for SEO professionals. Also, joining SEO groups and networking communities can lead to potential work opportunities. Organizations like Digital Marketing Philippines and Marketing Institute of the Philippines provide workshops and events with knowledgeable speakers where professionals can network and connect with like-minded individuals.
In conclusion, the Philippines digital industry is booming and offers many opportunities for SEO job seekers. With the ever-growing number of businesses moving online, SEO services have become a crucial aspect of online marketing for businesses. Individuals with technical skills and creative minds are in high demand to fill SEO positions. Job seekers can find SEO job opportunities in different sites. Online job boards, social media platforms, industry-specific job boards, and platforms that connect freelancers with clients can offer many options for people interested in SEO jobs. Lastly, networking and personal connections remain an effective way of finding job opportunities in the fast-growing digital marketing field.