PINOYSEO ADS: UPCOMING EVENT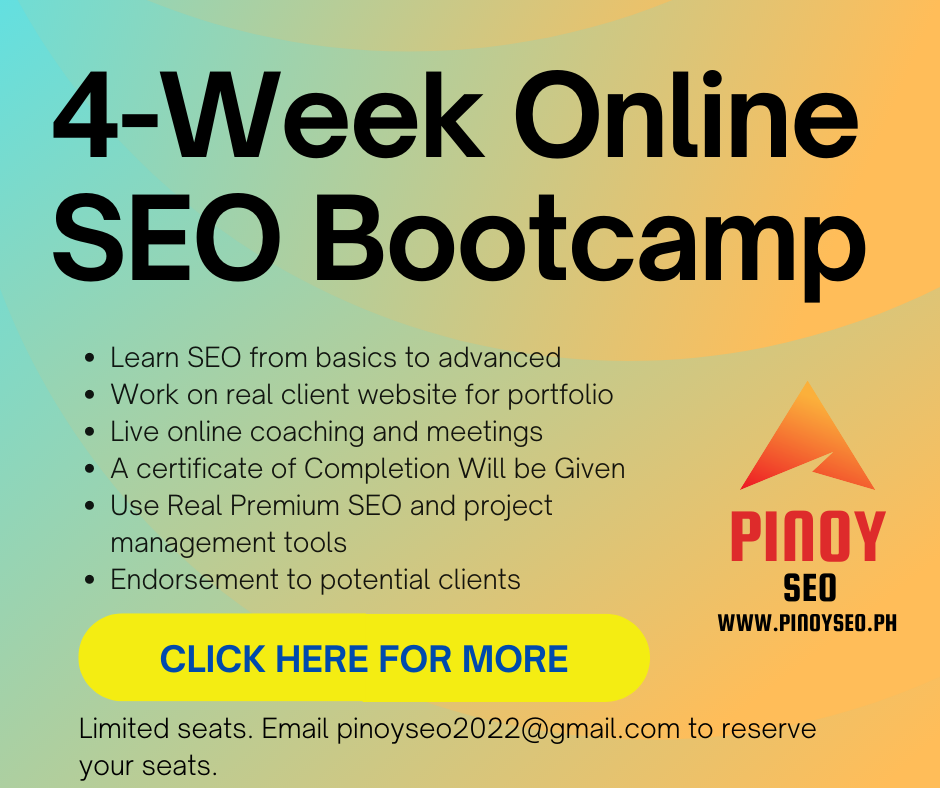 Website Pronto Marketing
Company Description
Pronto Marketing has been in business since 2008, building WordPress websites for over 2,000 customers around the world. Our founder has a Microsoft background and an American west-coast approach to running a company: You'll be joining a diverse, international team that works hard, has fun, and respects each other and our clients.
Job Description
We are currently hiring a SEO Link Building Outreach Specialist to join our team. At Pronto, our Link Building specialists get an opportunity to dive headfirst into SEO with the resources to thrive and succeed. Working with us, you will gain exposure to and knowledge of a wide variety of companies. In addition, our specialists have an active role in all parts of our customers' SEO link building and guest posting campaigns, from the initial outreach to helping negotiate the links and expanding our database of publishers. Every SEO challenge and opportunity can be found at Pronto Marketing.
Primary Responsibilities
To complete all link placements on time, accurately, cost-effectively, and aligned with our customers' goals.
You'll be responsible for:
Prospecting potential websites and people for outreach and placing links per each client's campaign goals
Constant follow-up, negotiation, and relationship building with webmasters
Import and organize people and websites within Buzzstream or other similar tools
Constant tracking of outreach efforts
Continuous monitoring and assurance of the client's website's healthy backlink profile
Continuous service and workflow improvement initiatives aimed at improving value and overall cost-effectiveness.
Report to SEO Manager with successes, progress, and opportunities
Qualifications
Required Skills & Experience
2 years of experience in Search Engine Optimization, preferably paid link building outreach
Experience working with popular SEO tools (Ahrefs, SEMrush, Screaming Frog, etc.)
Must be able to work with a sense of urgency
Must be comfortable working within a CRM like Buzzstream
Must be able to multi-task and occasionally assist with other SEO tasks
Must be a great communicator and relationship-builder
The candidate must have a passion for search engine optimization and show it
Must provide at least 2 references of people in SEO who can vouch for you
The "Good-to-haves":
2+ years of agency-side experience in Search Engine Optimization
Your traits:
Organized. Link building strategies are complex – you'll find yourself juggling between sending follow-up messages while continuously checking the quality of backlinks and potential prospects. Having a clear head in the game will keep you focused and results-driven.
Analytical and good decision-maker. When the need for a decision arises, you must be ready to give your best judgment of the situation to produce your client's intended results without further delay.
Team player. Collaboration with other people in your team, especially the writer and the SEO specialists, is important if you want to achieve success with your overall SEO game plan.
Additional Information