PINOYSEO ADS: UPCOMING EVENT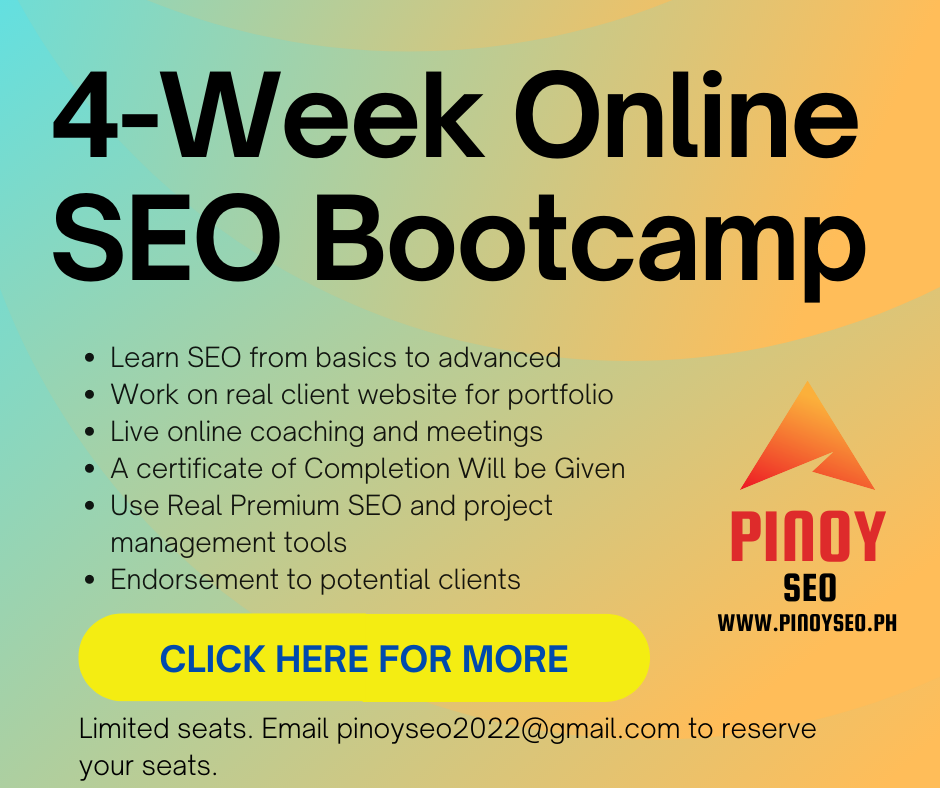 Website Staff Domain
About Staff Domain:

Staff Domain connects the best local talent with progressive businesses from all around the world. We firmly believe that great professionals need a great environment to enjoy and thrive in. The clients that our employees work directly with are vetted intricately to make sure that our employees will only be working with the most stable companies and that there are opportunities for growth and advancement–these are not just highly possible, it's a guarantee. This is why, we are the #SmartPlaceToGrow
We have grown more than 300% percent over the past year and a half. That much growth in that span of time indicates that we must be doing something right, yes?
Join Us and Enjoy:
Market-Leading Salary + Non-Taxable Allowance
HMO with dental for the employees and 1 free dependent. The enrollment from day one.
Group Life Insurance
Guaranteed Work-Life Balance
Top-notch Learning, Culture, and Development Programs (Offshore business travel opportunities)
High Advancement Opportunities
Guaranteed Stability and Job Security (Pandemic-proof)
Paid Leaves: Birthday, Holiday, Medical, Maternity, and Vacation (can be carried over the following year + convertible to cash)
Regular Social Activities
13th Month Bonus
Annual Performance Appraisal and Bonus
Overtime Pay
Offices in strategic CBDs (Metro Manila, Alabang, Pampanga, Cebu)
About the client:

We are a talented group committed to creating powerful communications that deliver beyond expectation.
We are a full service branding, creative and digital marketing agency.
We help businesses develop their brand, extend their reach, engage audiences, build customers, and grow their business.
Why Are We Hiring?
Their business is growing rapidly thanks to industry leading results delivered via an energetic and rewarding team-based culture. We are looking for a driven individual to complement our team as we develop and promote existing people within the business.
As an SEO Specialist, you will be required to undertake a variety of tasks including and not limited to:
Growing our clients' digital presence and increasing leads through SEO strategies
Backlink acquisition
On-page and Off page SEO activities
Undertake Site Audits, Keyword research plans
Strategic problem solving – you'll need to identify bottlenecks, troubleshoot and execute solutions that drive organic search ability and conversions
Performing keyword research, on-page SEO and internal link building
Writing content briefs for our in-house content team, and also write their own SEO copy
Monitoring Google Analytics, Search Console and Ahrefs Site Explorer reports and communicating any issues to the team
Providing a weekly breakdown of all brands' SEO performance
Onboarding new SEO clients
Attend fortnightly meetings with each Account Manager
Keep up to date with the latest SEO tactics and Google updates
Requirements
Qualifications & Experience:
A minimum of 3-5 years' experience in a similar role
Excellent spoken and written English.
Demonstrated experience across Google products: Google Analytics, Google Keyword Planner, Search Console, Google Trends, and other key Google Tools
Proven performance in link acquisition strategies
Excellent working knowledge of WordPress
Excellent knowledge of SEO tools such as Semrush, Ahrefs, Majestic, Screaming Frog, Surfer SEO, etc.
Proven performance in SEO and Local SEO with knowledge of the key differences
Understanding the importance of SEO, the role it plays and how it impacts other departments in a high performing digital marketing team
Keen attention to detail and pride in work
Ability to work under pressure and meet deadlines in a fast-paced environment
*The hiring process will take place virtually. Only applicants who have been shortlisted will be contacted within the next 24-48 hours of submitting their application. If you do not qualify for this role, we will keep you in our talent pool and contact you if any positions become available that suit your qualifications.