PINOYSEO ADS: UPCOMING EVENT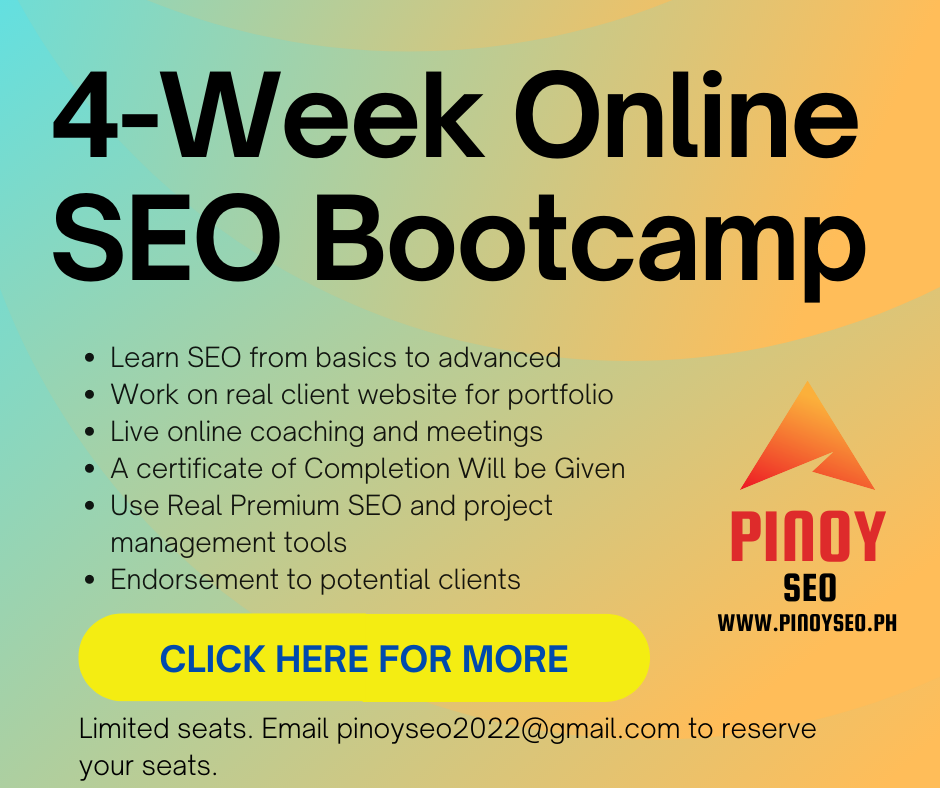 Website The Incubator
 Exciting Opportunity for SEO Specialists! Join Our Team Today! 
Are you an ambitious SEO (Search Engine Optimization) specialist looking to take your career to the next level? Look no further! We have an incredible opportunity for you to showcase your skills and make a significant impact on our digital presence.
RESPONSIBILITIES:
– Completely develop and implement SEO strategy across all of our websites
– Keyword research and analysis, update team on website health and performance
– Promoting and marketing our high-quality content to the most relevant segments and partners
– Drive content marketing strategy to acquire backlinks at scale and grow organic – rankings
– Work with internal marketing and external teams to develop a process to scale link-building promotion and outreach
– Conduct keyword ranking analysis and research to inform content strategy and forecasting for building links to improve rankings and traffic
– Measure and analyze the effectiveness and ROI of all link-building activities
– Regularly analyze backlink profile to ensure healthy links and backlink profile
– Support with broader SEO on-site SEO optimizations and experiments
– Explain SEO traffic patterns and understand all search engine algorithm changes
– Monitoring SEO trends and staying current with the latest SEO technologies
– Optimize our title tags across all our website domains
– Optimize and plan meta descriptions
– Coordinate and execute anchor text links
REQUIREMENTS:
– 1+ years of hands-on experience and proven track record in link building
– Experience working in a strong metrics-driven culture to measure the performance of SEO
– Knowledge in developing content marketing plans and roadmaps for acquiring backlinks
– Exhibit willingness and flexibility to work in a small team environment and support
– Expertise in search engine algorithms, white hat practices, and working with a large volume of content
– Proficiency in SEO tools such as Google Analytics, Google Search Console, SEMrush, Moz, or similar platforms.
– Proven success in link-building and viral strategies
– Experience with SEO and link-building KPIs & reporting
– Knowledge of HTML, CSS, and website structure for technical SEO optimizations