PINOYSEO ADS: UPCOMING EVENT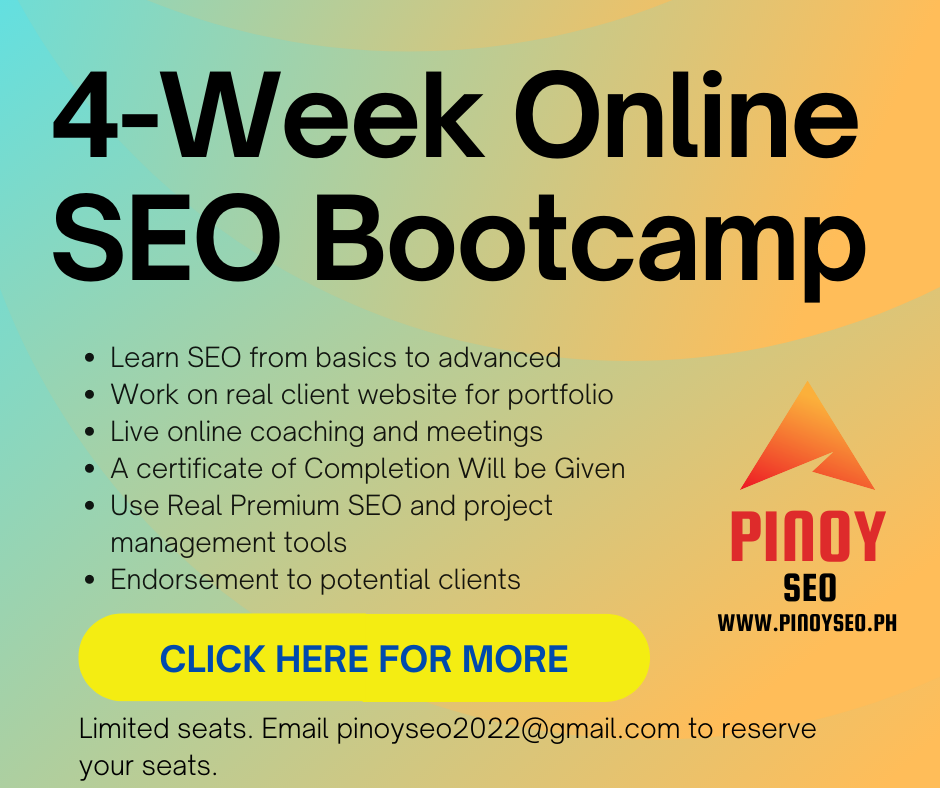 SEO is a lucrative profession in the Philippines. It is a part of the digital marketing industry. I work as an SEO specialist since 2010 and has clients in UK, Australia, Canada. In the video below, I showed how much I earn for some of my clients.
I provide free SEO training videos. You can see them all here.
Video Transcript:
Good day
Welcome to another video from the Pinoy SEO YouTube channel
So in today's video I will only discuss about the average earnings of a SEO specialist
I'm a SEO specialist since 2010 and I'm freelance
So I have many clients in Canada, Australia and US
They pay me on an hourly basis
So, ill show my PayPal
This record, not all my clients pay me through PayPal
Others pay me through bpi direct
So with this PayPal, only two clients are paying me with this
I'm just showing insights, I'm not bragging but just showing that SEO is a good career
I have been doing this since 2010
I started with one client and over the years referred to more clients
Mostly recommended by existing clients
So in 2021, I earned 1.1 Million pesos through my SEO services
If you look at the graph, I started with 73,000 pesos per month until it became 100,000 pesos per month
So I made an average of 100,000 per month in 2021 from my clients who pay with PayPal
in 2022, the average graph will not come out but they will have the same average income in 2021
So again, these are the only two clients who pay with PayPal, I have other clients who pay with bpi
So I'm just showing you that SEO is a good career
To recap, what is SEO
SEO involves processes or strategies that we do so that we can increase the rankings of a website in the search engine.
Examples of search engines are google, Bing, YouTube and amazon
So basically SEO is raising the rankings of the website within a search engine
what are the benefits of SEO
The benefits are that once you enter the top search results, especially if you are in the top 3 on the first page, you will have free ongoing traffic.
SEO takes time to process, more than 1 to 2 months
Especially if the website is newly launched, it will take 1-2 years for there to be a significant improvement
So I have a client who is an ecommerce business and they started with very little traffic about 800 visits per month through google
I did SEO and after a year, they have 5000 monthly visits on google
so that's all, there are many processes involved in SEO
It will take more than 1 to 2 days of learning
for me over the years, I have learned so much
There are strategies that have been removed and some that have been added
because our technology is evolving
So again, SEO is a good career
And I'm happy that I pursued this career
So that's all, thank you for watching and see you in the next video