PINOYSEO ADS: UPCOMING EVENT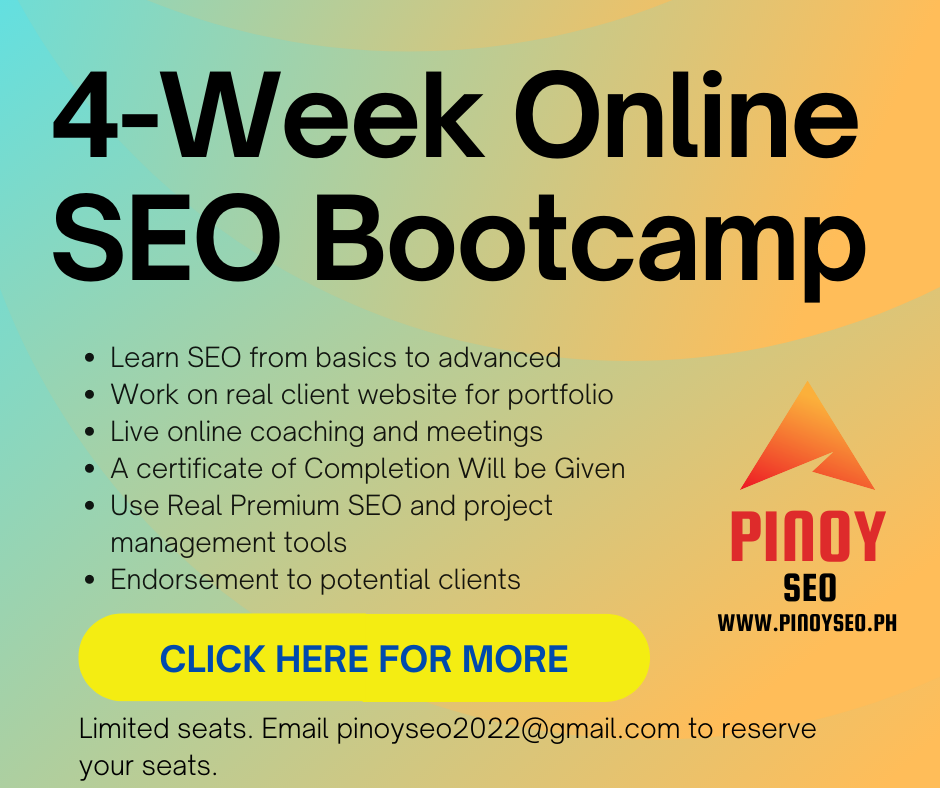 Website South Street Designs
The SEO Specialist plays a pivotal role in propelling VersaChalk's online visibility to unprecedented heights. Their expertise will guide our organic search strategies, ensuring our brand resonates effectively within the digital ecosystem, capturing the attention and admiration of our target audience.Join us by applying directly at https://www.southstreetdesigns.com/jobsKey Responsibilities
Conduct extensive keyword research to guide content teams.
Set SEO Roadmap and campaigns.
Optimize website elements for improved SEO, including meta tags, content, and site structure.
Collaborate with content and design teams to produce SEO-friendly content.
Perform regular site audits to ensure best SEO practices are upheld.
Identify SEO gaps and strategies for keyword-optimized platforms and work with marketing members responsible in the Social Media Marketing Area.
Develop off-page SEO strategies to build brand authority and backlinks.
Software/Tools
Google Analytics & Search Console
SEMrush or Ahrefs
Screaming Frog or similar site audit tools
Skill Set
Deep understanding of Google's algorithm and SEO best practices.
Strong analytical skills and ability to interpret data.
Proficient in SEO tools and software.
Excellent written and verbal communication skills.
Experience
Minimum 3 years of hands-on SEO experience.
Proven track record of improving SEO metrics for an e-commerce brand.
Familiarity with content management systems.
Do Not Apply If
You aren't comfortable with using multiple SEO tools or learning new ones.
You're looking for a short-term position.
You're not ready to work in a fast-paced and dynamic environment.
Scenario Questions
How would you approach improving organic traffic for new products in a competitive niche?
How would you conduct keyword research to guide content teams in optimizing the website's SEO?
Can you provide an example of an SEO campaign you have managed, including the strategy you employed and the results you achieved?
Our Core ValuesAt South Street Designs, we believe in creating an environment where everyone can be their authentic selves and contribute their unique perspective to the team. We strive to ensure our company culture is grounded in positive values like trust and respect, collaboration, resilience, and innovation. This commitment enables us to build an atmosphere where inclusion and growth are at the forefront. Our goal is to empower each individual to reach their fullest potential while being supported by the team.Why People Love Working At South Street Designs
Great compensation & benefits package
Quarterly reimbursements for internet and technology/office set-up upgrade
Annual Cost of Living Adjustment based on inflation rate
Free virtual psychotherapy sessions with MAGIS Creative Spaces
Holiday Wind Down
Medicard HMO with 100k DDL once regularized
20 PTOs per year once regularized (accrued PTOs during probation)
We know our success depends on the people who join us. That's why we have a meticulous screening process so we can hire top-notch talent. Join us by applying directly at https://www.southstreetdesigns.com/jobs.